5 Reasons For Hiring A Heating And Cooling Company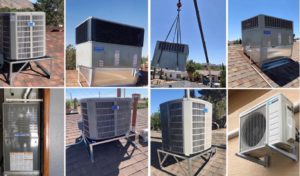 Over the years, people often like to handle their HVAC devices themselves. This is simply because many homeowners believe they can make extra money by getting rid of the middle-man and repairing their appliances themselves. The truth is that avoiding the professional service of a cooling and heating company will even make you spend extra money during the entire process. In this article, you will discover 5 great reasons for hiring a heating and cooling company.
Save Extra Money:
It may be a bit expensive to hire a cooling and heating company for your project. Nevertheless, this approach will help to prevent you from damaging your HVAC devices unknowingly. Professional HVAC companies usually have excellent relationships with suppliers. This will help you save more money on your central air unit or furnace. By hiring an expert heating and cooling company, you will no longer purchase parts or accessories in retail costs. Reputable HVAC services often provide customers a kind of special discount payments via credit card. This will also make financing to be affordable and simple for clients in a time of need.
Security Is King And Golden:
Protecting your family is one of the great investments you have to achieve in life. You will jeopardize the safety of your family by repairing HVAC devices yourself. There are ubiquitous facts to consider in the likes of leaking gas, carbon dioxide and other problems that can typically cause harm to your family. With professional cooling and heating companies, issues surrounding HVAC devices will be properly handled. Experts are specially trained to monitor any troubling signs associated with heating appliances and providing the right solution to protect your family.
Warning:
There is every possibility for your heating device to unleash more problems than you anticipate. Professional companies will not only provide the immediate solution your HVAC device needs but can as well spot something unique that may later become a nagging issue in a couple of days ahead. You may be surprised to see your HVAC device develop a secondary issue in a few days. However, it will not be any surprise to a professional heating company. This is simply because an expert cooling and a heating company already foresee the problem earlier before it occurs.
Time Of Delivery/Speed:
One important thing to know is that expert heating companies handle HVAC devices regularly. For instance, if your heating appliance breakdown dung winter, the temperature in the home may plummet beyond expectation. With a professional and certified service, the vents of your HVAC device will be blown out quickly to cool the hot temperature. These experts know your need and will do everything to ensure that the service is provided an exceptional turnaround time.
Professionalism:
With professional heating companies, you will find experts, who are well-trained, insured, licensed and have the right certification. These technicians know how to do the job safely in an ephemeral of time. They also know the right thing that should be done to make your cooling and heating appliances work smoothly without any interference. Reputable heating services only make use of professionals who have advanced training and development to handle any HVAC device.